New Editions!
The Marco Fontana mystery series has move to a new Publisher — Jade Mountain Books — and new editions of the early books have fabulous new covers!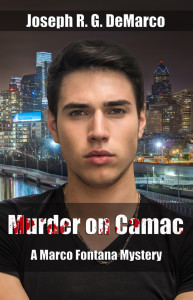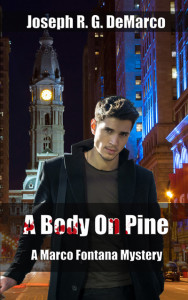 Crimes on Latimer and Death on Delancey — will be re-released this summer. The next installment in the series will appear in the Fall.
a new Marco Fontana mystery
This novel finds Marco knee deep in a mystery which chills the hearts of everyone in the gayborhood and beyond.
"Death on Delancey is a rip-snorter–maybe the best yet in the series….there's nothing about Death on Delancey that isn't fun–and DeMarco also puts Philadelphia up front and center, displaying a knowledge of the city only a local would have, and that translates beautifully." Jerry Wheeler, Out in Print
——————————————————————————————
And if Vampires are something you crave, then 
Discover what it means to be undead in Philly…
The Vampire Inquisitor series starts with a trilogy, the first volume of which is…
A Warning in Blood introduces Dru, the Prime Inquisitor of the Protectorate.
Something catastrophic is happening to The Protectorate and to the whole vampire world. It is up to Dru to find out who is behind the disaster and stop him.
———————————————————————————————————————————————————–
The Marco Fontana Series
If you're interested in Marco Fontana's cases before Murder on Camac, pick up a copy of Crimes on Latimer a prequel to the series which recounts six of Marco's earliest cases beginning with an incident from his high school days.
What the critics say about Crimes on Latimer:
"Joseph R.G. DeMarco takes a look into the formative years of his gay detective character, Marco Fontana, in this teasing collection of short murder mysteries…. Through the stories, readers learn about Marco's teen years and his 20s, his growing collection of friends and allies, and his healthy attitude regarding his sexual orientation. This collection of mini-mysteries is compelling…. Overall, the collection is solid, and serves to spark interest in the escapades of this gay private dick, all grown up." –Edge Philadelphia
"The mysteries are well laid out with suspense and motivation for the perpetrators' actions, showing what makes them tick. Engaging characters also cause readers to feel empathy for those who are hurt and falsely accused. Well-researched and accurate details of Philadelphia and New York clearly portray the cities's geography and culture, and the events that occur. All these qualities make this book more than a simple mystery collection. This book is welcome to any mystery collection for adults or mature young adults." –The GLBT-Round Table of the American Library Association